Royal Mail Christmas Stamp Competition 2017
Once again, Royal Mail are running their prestigious competition, for primary school pupils, to design stamps for 2017! This follows the hugely popular 2013 competition, where Royal Mail received 240,000 entries!
The competition theme:
'What does the Christmas season mean to you?'
Children can design an image that best describes the festive period, to them.
Two lucky winners will have their stamps made into 1st and 2nd class stamps - the winning designs will be approved by Her Royal Majesty, the Queen.
These stamps will be seen by thousands of people, not just in the UK but possibly around the world, too!
The competition has only run in 1966, 1981 and 2013.
Here are some of the winning designs: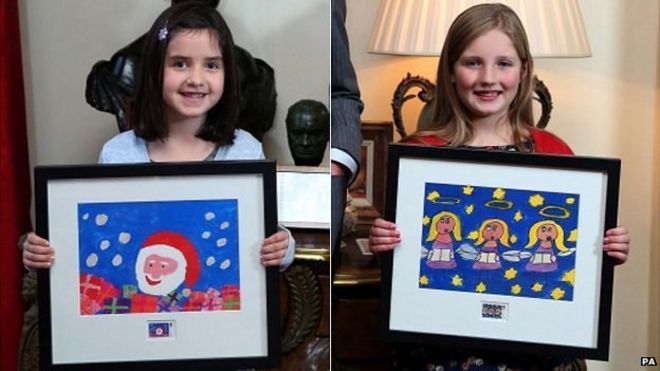 Prizes:
Not only can you win vouchers for your school, you can also win vouchers for your family!
x2 overall winners - £1000 vouchers
x22 area winners - £500 vouchers
x96 area runners up - £100 vouchers
...and not forgetting, your stamp will be made and used, by thousands of people, nationwide!
All entrants will receive a certificate of participation, from Royal Mail.
HOW TO ENTER:
Draw your design on an entry form and give it to your class teacher!
Miss Manjdadria will collect your entries from your teacher and will send away your designs, to the judges!
DEADLINE TO HAND IN ARTWORK:
Monday 13th March 2017
Judging March - May 2017
Winners announced July 2017
RULES:
Use lots of colour and be creative!

Try to fill all the space and not leave large areas of empty space.

If you design on a computer, print your image and stick it onto the entry form, so that it fits in the space provided.

Avoid using fluorescent pens and highlighters.
Do not add the 1st Class or 2nd Class logos in your design.
Do not draw the Queen's head in your design.
Do not draw a white border around your design.
Do not submit a collage.
Do not copy another artwork - Do not use photographs and images from the internet, including Clip Art.
If you need another entry form, then click the link below, to download another.
Get creative and good luck!
- Miss Manjdadria
For FULL ENTRY DETAILS and additional information, CLICK HERE!